News
Free-of-charge Polish Courses for Medical Professionals from Ukraine
Poznan University of Medical Sciences organizes a free-of-charge medical Polish course. The classes are for people from Ukraine who want to work in hospitals as: doctors, nurses, midwives.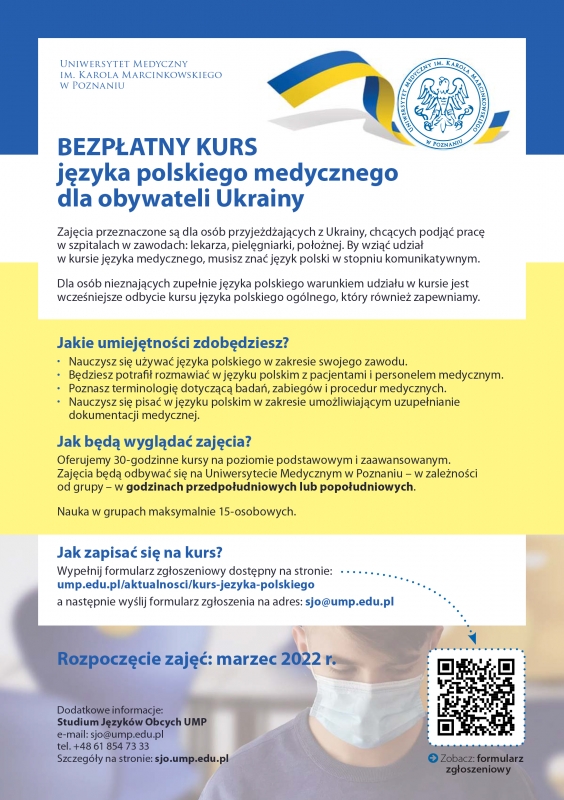 You need to have communicative competence in Polish to participate in the course. People who do not speak Polish have to take a general Polish course, which we also provide.
What skills will you acquire?
You will learn to use Polish in the scope of your profession.
You will know how to speak Polish with patients and medical personnel.
You will acquire terminology from the area of research, surgeries, and medical procedures.
You will learn to write in Polish to complete medical documentation.
What will the classes look like?
We offer 30-hour courses at the basic and advanced levels. The classes will take place at PUMS – depending on the group – in the morning or afternoon. There will be max.15 people in the group.
How to enroll in the course?
Fill in the application form, and then send it to: This email address is being protected from spambots. You need JavaScript enabled to view it..
Start of classes: March 2022
Additional information:
Studium Języków Obcych UMP
e-mail: This email address is being protected from spambots. You need JavaScript enabled to view it.
tel. +48 (61) 854-73-33
Details: www.sjo.ump.edu.pl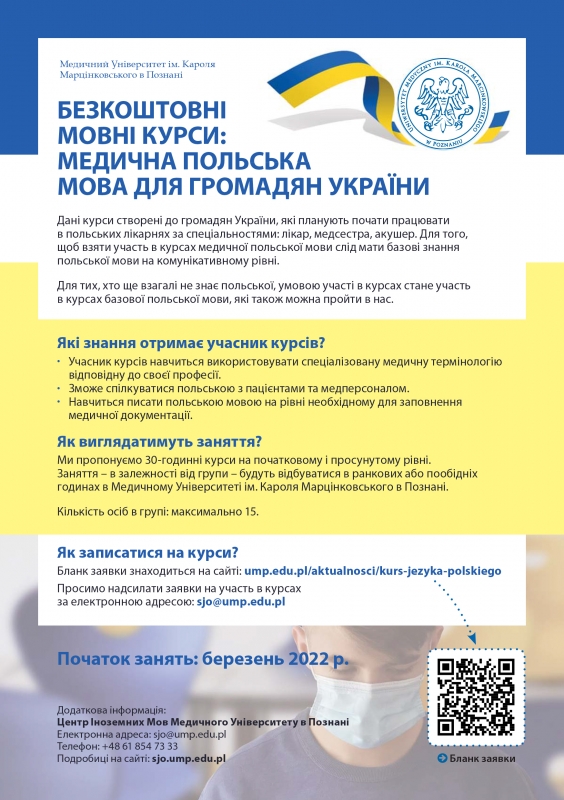 Безкоштовні мовні курси: Медична польська мова для громадян України
Для кого призначені курси?
Дані курси створені до громадян України, які планують почати працювати в польських лікарнях за спеціальностями: лікар, медсестра, акушер. Для того, щоб взяти участь в курсах медичної польської мови слід мати базові знання польської мови на комунікативному рівні.
Для тих, хто ще взагалі не знає польської, умовою участі в курсах стане участь в курсах базової польської мови, які також можна пройти в нас.
Які знання отримає учасник курсів?
Учасник курсів навчиться використовувати спеціалізовану медичну термінологію відповідну до своєї професії.
Зможе спілкуватися польською з пацієнтами та медперсоналом.
Навчиться писати польською мовою на рівні необхідному для заповнення медичної документації.
Як виглядатимуть заняття?
Ми пропонуємо 30-годинні курси на початковому і просунутому рівні. Заняття – в залежності від групи – будуть відбуватися в ранкових або пообідніх годинах в Медичному Університеті ім. Кароля Марцінковського в Познані. Кількість осіб в групі: максимально 15.
Як записатися на курси?
Заповніть форму заявки. Просимо надсилати заявки на участь в курсах за електронною адресою: www.sjo.ump.edu.pl.
Початок занять: березень 2022 р.
Додаткова інформація:
Центр Іноземних Мов Медичного Університету в Познані
Електронна адреса: This email address is being protected from spambots. You need JavaScript enabled to view it.
Телефон: +48 (61) 854-73-33
Подробиці на сайті: www.sjo.ump.edu.pl